Elessar
, I hear that Annabel has all the 'raw material' she needs so if Brego does make a 'mess' it will be up to you to clean up after him. Being in the Hall of Flame does not get you out of 'clean up doo doo duty'.
Thanks for the lovely commpliment on the picture. Slowly but surely I am getting a bit better with Photoshop.
Do you hear that Elessar???
The music in the distance. ...???
Please press play, especially if you enjoy watching dogs. I know some of you will not scroll down until the song has ended.


Well with that music it can only mean one Flamer is heading our way ...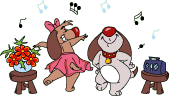 Yup, I was right, it is non other than @
Vicksken
.
I'm starting to wonder if it was such a great idea to inform you all to find a mode of transportation.