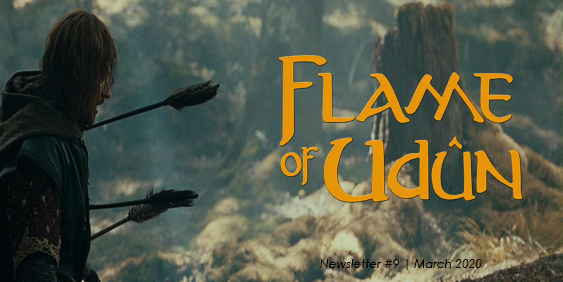 Flame of Udûn
NEWSLETTER #9
March 2020
We're three months into the new year and although this usually is a quieter time when it comes to new releases and the big convention,
some
stuff has happened anyway:

Olórin retires as a moderator
For more than a decade, our trusted moderator Olórin, has been in the service of us Flamers one way or another. He joined the Shadow and Flame forum back in the day and it didn't take too long before forum owner Chuck saw his potential and made him the second moderator. When the time came to start the FoU forum, there was no doubt in my mind that Olórin was a most natural part of the new moderator team. When I think back, I am unsure if he even really got a say in it.
Olórin has been a good helper on the forum and a wonderful support for me personally. I have known about his 'retirement', as he calls it himself, for months now, but it will still be sad when the day comes. Thank you for all your work over the years. The Flamer community wouldn't have been quite the same without our Dutch superhero. Thank Olórin yourself in his
"retirement announcement" thread
.

Collectible news from Weta
This week, Weta's very own Daniel Falconer came to Flame of Udûn to share some news. There have been pretty quiet from Weta when it comes to new collectibles these last few months - if you don't count The Dark Crystal. Mr. Falconer knows his audience and have a few Middle-Earth related tidbits to share. In good, old Weta style there are both teasing and a riddle. Some one what he could share is that we will see another addition to Lurtz, Aragorn and Boromir at Amon Hen. Who is it? We can speculate as much as we like, but only time will tell.
Read the whole post from Daniel
yourself and join in on the conversation.
Always a chance to be a winner!
There's not uncommon to find an ongoing giveaway on Flame of Udûn. We have a pretty high giveaway count compared to number of members. And this is a wonderful thing. The world as a whole need more generosity and our own forum is good at setting an example for it. Annabel has just closed her
custom made map of Middle-Earth giveaway
. Dipling was the lucky winner of the very unique prize.
What has become
an annual giveaway after the Flamies
Awards, has just started. It does need a bit of digging and going through the Award Ceremony thread, but there are no trick questions this year (something last year's contestants had the joy to experience). You can win a mini statue or smial of your choice along with lots of Middle-Earth related goodies.
As a parting gift to the forum, Olórin is hosting his last giveaway as a moderator. Answer a few questions about the forum and its moderators and you can enter his raving raffle! You may win a smial, two Mini Epics or a Funko Pop! You only have a couple more days before the giveaway ends,
enter now
!
The Corona Virus Disease and the Collectible Community
The virus, which sadly doesnot require any introduction, has now spread all over the world. Dangerous for some and just annoying for others, we are all affected by it - or will be - one way or another. Us collectors are affected too, although we can hardly call it too serious. It is sad when conventions cancel and collectibles are delayed, but it's not life threatening.
Several collectibles from Weta have now been pushed back to later in the year. Galadriel Dark Queen and Gandalf and Frodo on Cart are the biggest items to be affected. And some will have to wait extra for Minas Morgul as not the whole edition made if out of China before everything stopped.
The most important thing is that all of you members and your families are safe and do the utmost to hinder the virus to spread any further. On the upside, this leaves extra time to spend on the forum for the next weeks.

The City of the Nazgul is here.
For those who didn't get the dreaded email saying that the delivery of Minas Morgul has been delayed because of COVID-19, the newest environment from Weta has started shipping and the first one arrived at it's new home more than a week ago. The feedback has overall been good and the light up function has received nothing but praise. Take a look at the pictures posted in our
Minas Morgul thread
, and please feel free to post your own too.

Did you miss The Flamies? No worries,
the award ceremony thread
is here to stay. One month ago we celebrated the forum and its members with a wonderful event where awards where handed out, speeches were held and prizes were won. A lot of fun and a lot of warmth. Why not catch up on what happened that weekend by revisiting the thread? Maybe you even received a nomination ? This year's winners follow below:
Stay healthy and safe out there.
Best wishes from Stig and the rest of the moderator team.